Quick Tour
Pikes Peak Rock Shop Wholesale is located in Woodland Park, Colorado. Our efficient facility and staff permits us to
offer an extensive selection of products and process your orders quickly. Please take a moment and see for yourself!
---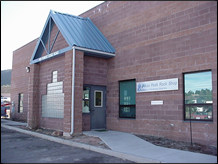 Shop Exterior
Our building was constructed in 1996. This spacious facility was designed to handle all our storage,
processing, and administrative needs.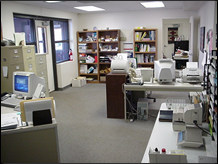 Front Office
This "organized chaos" is the front office. Here customer service calls and orders are received, entered, and
billed. Inventory is checked in and confirmed received.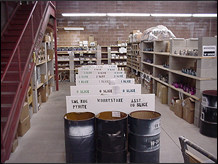 Shop Interior
The spacious shop area permits us to stock a large amount of inventory and locate it quickly too!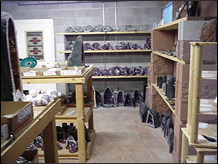 Inventory
We are continuously adding new products and restocking existing ones.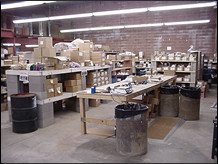 Processing Area
Here your order is carefully wrapped and packed to avoid breakage. All orders are double-checked for
correctness and completeness.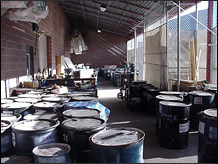 Storage Area
The additional storage area allows us to keep plenty of product on hand enabling us to fill your orders
as completely as possible. Also, because of this additional storage, we are able to import greater quantities from our suppliers at discount rates and pass the savings on to you!
---
We are direct importers of exotic rock and mineral products.
Wholesale Fossils, Gems, Souvenirs, Rocks, Minerals, Crystals, and Jewelry.
Searching for a wholesale distributor of fossils, gems, and stone products?
Retailers: Save time and money on wholesale stone products!
We are a wholesaler selling to businesses only.
No retail orders accepted from the general pub.
Do you own a retail souvenir concession or gift shop that offers fossils, keychains, magnets, bookends, crystals, and stone products?
Do you target tourists, metaphysical customers, or gift buyers?
We offer hundreds of rock, mineral, and jewelry products in dozens of categories directly imported to ensure high quality and low prices.
Direct Importer = Quality, Supply, & Savings
Being a direct importer, Pikes Peak Rock Shop President, Gary Greenwald travels around the world to mines and factories to assure quality and dependable supply. Gary is always looking for new sources and products to offer to retailers, airport & national park gift shops, concessions, new age & science/nature shops, and tourist destinations.
Pikes Peak Rock Shop supplies products to Retailers only, (U.S. and international).  Retailers  are defined as persons who possess a state or federal business license, EIN number or resale license number. Some states do not collect sales tax but every state we have contacted stated they require a business license to operate. Because of the rise of identity theft in our industry, INTERNATIONAL ORDERS must be paid for by wire transfer. (Certain other restrictions apply)