Brazilian Agate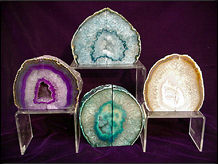 Agate is one of the more beautiful types of semi-precious gemstones. Agate is a form of the mineral chalcedony, which consists of an aggregate of very tiny quartz crystals.
Our favorite type is Brazilian agate, which occurs often as sizeable geodes, forming layered nodules.
We stock a large selection of bookends, thick & thin slices, jewel boxes, cut base geodes, and more. All are available in a natural or dyed form.
---
Bulk Minerals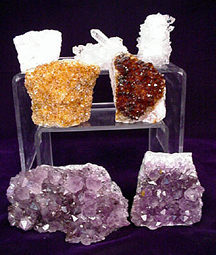 Pikes Peak Rock Shop has a wide variety of tumbled gemstones, pyrite, citrine, quartz, amethyst, onyx, and geode products suitable for retail bins and bulk displays.
We have over 20 types of tumbled gemstones in two different sizes in stock.
---
Fossils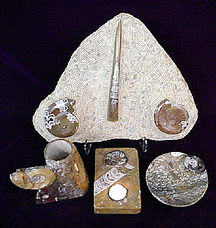 PPRS has a varied selection of aquatic fossilized products to offer our retailers.
From large Orthoceras plates, to inexpensive Ammonite specimens, Goniatites, Fossil Fish, Trilobites, and Sharks Tooth fossils we can fill your retail fossil needs.
---
Polished Minerals
One of our strongest categories has to be our Polished Mineral selection. The bulk of which we hand pick ourselves on our buying trips to Brazil.
If you are in need of obelisks, massage wands, spheres, pyramids or points of all sizes, we stock them in Agate, Fluorite, Amethyst, Citrine, Rose Quartz to name a few.
We also have a wonderful selection of Clear Quartz , Smokey Quartz, Rutilated Quartz, and Phantom Crystals.
---
Display Fixtures & Stands
PPRS has a selection of various types of displays available to our customers which are well suited to showing our products in an accessible manner, and taking up a minimum amount of floor and counter space.
In some cases the cost of the fixture is offset with free goods.
Our acrylic displays are useful for handling hard to hold specimens, and presenting them in their best light.
Maximize your stores potential with one of our great stone or jewelry displays.
---
Magnetic Hematite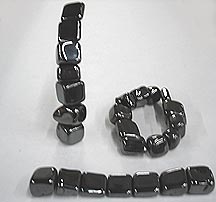 Sticky Stones are actually magnetic Hematine which is a synthetic form of Hematite. They are powerful magnets that your customers can't stop playing with! These irregular shaped pieces will vary in size.
See ROCK DISPLAY PACKAGES for ready to sell packages that can be shipped direct to your store.
**PLEASE NOTE!!**  Some of our products are dyed with a mineral based dye.  As with most artificially colored items, if these products are used or left in a wet environment, it may cause the dye to bleed from the stone.  Pikes Peak Rock Shop will not be responsible for damage caused by using this product in a wet or damp environment.